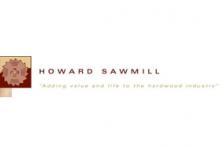 Howard Sawmill Suppliers of Quality KD Queensland Hardwoods
Address
10 Old Bruce Hwy
Howard
QLD 4659
Business Type
Manufacturer
Wholesale/Trade sales
Accreditation / Certification
Howard Sawmill is a Quality supplier of Spotted Gum, Forest Red Gum, Blackbutt and Iron Bark T&G flooring, Overlay Flooring, Decking, Cladding and KD rough sawn Products.

Howard Sawmill is a small family owned and run sawmill in south east Queensland located approximately 30 kms north of Hervey Bay. We are continually fine tuning our skills in the art of sawmilling, dressing and kiln drying of our precious resource for the manufacture of floorings and Linings. We are constantly improving our techniques in our production and systems to stay at the top and become the preferred supplier of this world class timber.

Howard Sawmill has recently obtained Australian Forestry Standard Chain Of Custody and are currently undergoing the process of becoming an accredited timber flooring manufacturer through ATFA.