Image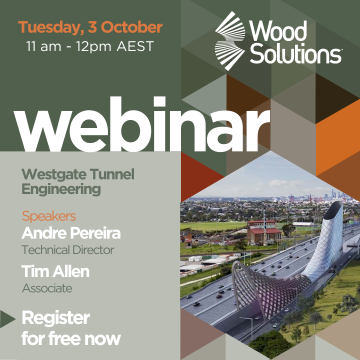 This session stands out for its focus on the detailed engineering behind the Westgate Tunnel, a stunning glulam frame proposed for one of Melbourne's bustling motorways.
Our panellists for the session are Andre Pereira and Tim Allen, both highly experienced structural engineers. Together, they bring a well-rounded perspective on the intricate complexities of the Westgate Tunnel's construction. They'll delve into the challenges they've faced, the innovative solutions they've implemented, and the lessons learned in the process.
This is a great opportunity for architects, engineers, and building designers to acquire actionable insights directly from industry stalwarts. Gain a deeper understanding of current practices and future trends to make sure your projects stay ahead of the curve. Don't miss this deep dive into the exciting project.
Free webinars, on the first Tuesday of each month at 11AM AEST. To see and register for upcoming webinars, check the WoodSolutions Events Calendar. With a wide range of topics, presenters, panelists and possible CPD points, WoodSolutions Webinars are for design and build professionals who want to learn how to optimise the benefits of wood and wood products, both traditional and innovative.