Abigroup House, Brisbane Cox Rayner Architects have created an interior that presents Abigroup as a forward-thinking building company, and timber is a highly visible contribution to this effect.
Project Name
Abigroup House, Brisbane
Photographer Details
Christopher Frederick Jones
Image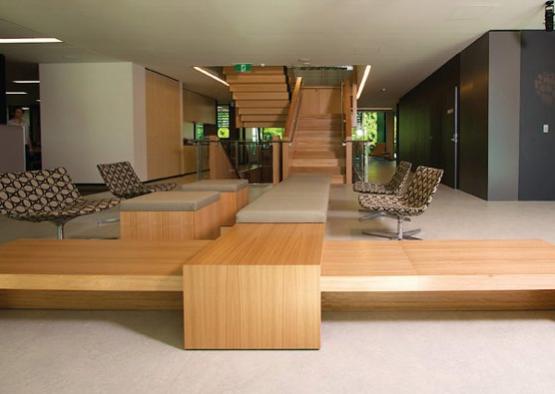 Overview
A unique development site became available in Brisbane's South Bank Parklands and Abigroup saw it as an excellent opportunity to build a new head office for their Queensland Construction Group. Together with Cox Rayner Architects, a design submission was developed that maximised the potential of the land. The design brief clearly required a solution that presented Abigroup as a successful building company that embraced forward thinking systems and techniques.
The visual centre of the entrance foyer is a freestanding staircase that travels up the three stories of the building. Timber was the clear preference for the stairs due to the warmth and range of textures that it presents. The designers wanted to express the flights and landings as lightweight elements, and timber was used to conceal the supporting elements as much as possible. Half landings were cantilevered from the central support and flights were suspended from floor slabs rather than propped with columns. Glass was used as balustrades at each floor level to reveal the timber stair.
The use of timber in the entrance foyer and open spaces of the building provides a unified experience, with the floor, ceiling and staircase rhyming visually with the extensive use of wooden furniture.
Interior
The richness of the timber finishes in the entrance foyer, reception and the ground floor stair is enhanced by the solid timber lining of the ceiling. The reception area is separated from the stair by a security screen that uses vertically oriented timber battens.
The main staircase uses a mixture of select grade solid Blackbutt and Victorian Ash veneer board. The advantages to using timber for the staircase were both aesthetic and practical, remarks Greg Browne, CEO of Arden Architectural Stairs. "Timber provides attractive finishes and hides the structural steel; it also provides high strength for weight, is easy to work with, and when managed properly is recyclable and sustainable."
The timber floor on the top level links the lift entrance to the upper level external deck. By mimicking the use of timbers in joinery and fixed furniture, the floor forms a visual connection to the spaces of the boardroom, meeting rooms and offices.
The minimalist design and use of glass in the partitions allow the timber doors to have a greater presence in the space than usual. Set against steel, glass, stone, concrete and sheet linings, timber finishes provide visual relief that other products cannot match, says Stephen Gunn, project architect, Cox Rayner.
The Abigroup building achieved a four-star Green Star rating and the renewable nature of FSC timber assisted in obtaining this recognition.