Melling:Morse Architects drew their inspiration for this residence on a tiny, windy site from the local architectural history of modest weatherboard.
Project Name
The Wedge residence, Wellington, New Zealand
Photographer Details
Photographer Paul McCredie courtesy NZ Wood Awards
Image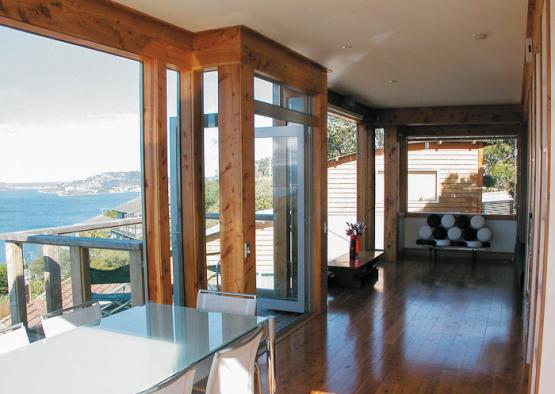 Overview
As its name suggests, The Wedge - an award-winning residential design by Wellington-based Melling:Morse Architects - sits on a site that is vertically and horizontally tight ... to say the least!
Perched high in the hills of Khandallah, it offers spectacular views of Wellington Harbour and makes extensive use of timber as a structural, cladding and finishing material.
"The challenge is always about the marriage of site, client and program - the eternal triangle, you might say," says designer Gerald Morse.
Inside, floorboards, trim and architraving are dressed macrocarpa, finished in flat polyurethane. Natural timber provides endless finishing and detailing choices. The finish was a toss-up between oil or a skin. "Generally, we use flat polyurethane so the timber is more protected and easy to clean," says Morse. Internal finishing timbers are only 10 mm thick.
Morse drew his inspiration from the local architectural history of modest weatherboard state houses dotted along the ridgeline. And then there were the inherent difficulties of the site: sloping, switch-backed, tight, hard against a public footpath on one side and opening dramatically to the harbour on the other.
Structure
The major visual impact is in the suggestion that, when appropriately detailed and constructed, timber in its natural state is almost universally appealing - particularly if it's also sustainable and environmentally friendly.
"Timber is a crucial component in a limited palette of materials we favour as naturally self-sustaining and requiring low maintenance," says Morse. "It is a gift wrapped in bark."
General framing is radiata pine and all exposed timbers are macrocarpa - often referred to in New Zealand as an 'indigenous exotic'. "Macrocarpa is environmentally friendly because it doesn't require chemical treatment to resist insect attack - an increasing advantage in our contemporary, health-conscious climate," he says.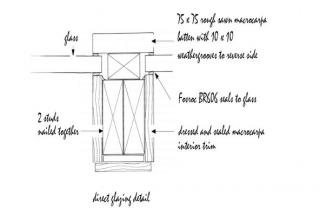 Exterior
The major timber innovation in the project is a special direct glazing system that eliminates the need for applied window joinery. "We developed the system for low-cost architecture as a money-saving device," says Morse. "'Carpentry windows' is probably a more accurate description - the joinery shop is not involved."
External weatherboards (bevel-backed), corner boxes, facings and fascia are all rough-sawn heart macrocarpa that has weathered to a soft, silvery grey.