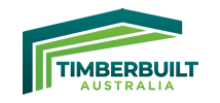 Timberbuilt Australia - unlocking the potential of wood construction
Address
38 Thomas Road, Kwinana Beach, WA 6167
Service Categories
Engineered timber fabrication
Structural engineering
Timber connections
Timberbuilt Australia (formerly Timberbuilt Solutions) specialises in timber engineering design and prefabrication of timber building systems using 3d software modelling (BIM) and German CNC manufacturing technology.

Providing timber engineering solutions primarily for commercial scale structures and/or where the timber structure is an architectural feature of the building.
Timber engineering knowledge & experience
- 'on-tap' to our customers. More than 25 years experience in timber engineering design and manufacture for a wide range of timber materials and types of structure - providing a total service to assist designers and builders to efficiently achieve design objectives. - 3d software modelling capability - to provide file sharing capability to minimise conflicts and errors and ensure achievement of the design intent and efficiency of construction - to reduce the most complex structures into data files that precisely and comprehensively describe each component for CNC manufacture. - CNC manufacture of components - Operation of the only CNC joinery machine in Australia capable of the application of sophisticated joinery to timber elements up to 630mm wide, 300mm thick and lengths of 1 m or more (as may be available) - Creation of superbly accurate individual components for assembly to create the most complex structures - Advanced joinery options including compound mortise and tenon jointing, dovetail support details, dowelled moment joints, slots, holes, birdsmouth notching, recesses etc all with an accuracy and repetition not otherwise possible
The above package of knowledge and skill and our track record of performance over three decades makes the Timberbuilt offer unique and certainly unmatched within Australia

Personnel
Jarrod Kerrins, General Manager. The success of a range of projects, including Melton Library and the Atrium roof structure for the Melbourne University Faculty of Architecture is testament to his skill and ability to extract practical results using 3d modelling software and CNC manufacture.
Timberbuilt can procure a full range of timber materials, as appropriate, for each project  including solid timber products, softwood and hardwood glued laminated timber, structural plywood, laminated veneer lumber in various structural 'grades', appearance quality and constructions and composite I-joists.