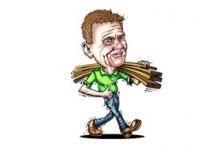 Timber and Building Hardware Suppliers in Botany
Address
1569 Botany Road
Botany
NSW 2019
Business Type
Retail
Wholesale/Trade sales
Accreditation / Certification
Service Categories
Building construction
Timber building products
Timber connections
Timber Yard located in Botany, Sydney 3 kilometres from Mascot Airport. Major supplier of Timber and related products including wood glue, fasteners, small hand tools, paint and brushes and more.

Supply Timber, Timber Decking, Timber Flooring, Structural Timber, Treated Pine Products, Lattice, Moulding, Cladding, Fence Palings, Skylights, Builders Hardware, Insulation Batts and Doors. Deliveries six days, Sydney Wide.

We are a Timber Yard located in Botany and service the Eastern Suburbs and Sydney area. The proprietor of Wayne's World Timber & Building Supplies has been associated with the Timber and Building industry for over 30 years. His weatlh of knowledge enables him to offer customers the very best advice on any timber or building material. We offer free advice to everyone from the DIY home building renovator, home handyman, landscapers or trade professionals. We give personal service and great prices and deliver six days a week.

Family owned and operated business located in the heart of Botany, just a few kilometers from Kingsford Smith Airport at Mascot.
We service the Eastern Suburbs of Sydney and surrounding suburbs.
Timber is sourced from leading Timber suppliers located in New South Wales and Queensland.
We sell other building supplies:-
Skylights - Sun Tunnels, Roof windows, Roof ventilators.
Building Hardware - Sand, Cement, Concrete, fasteners, Wood glues and silicones, small hand tools, General Hardware.
Insulation Batts.
Doors - Internal and external.