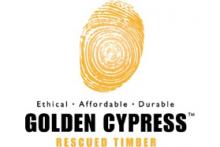 Ethical. Affordable. Durable.
Address
PO Box 79
Marysville
VIC 3779
Business Type
Manufacturer
Retail
Wholesale/Trade sales
Service Categories
Other
Recycled timber and flooring supplies
Timber building products
Converting durable, farm-grown timbers into magnificent feature timber products - all at commodity prices

Australia's largest network of small scale sawmillers, creating/adding value to an otherwise wasted resource benefitting rural families and communities. And making your project a total delight.
At Golden Cypress what we do is salvage old, sick or dangerous Cypress macrocarpa trees from farms and other properties and convert these logs into a wide range of useful timber products. By rescuing these trees, Golden Cypress prevents this resource from being burned or becoming landfill, thus locking up the carbon for generations to come.
Golden Cypress Rescued Timber presents a more ethical option than even recycled timber (no dismantling, less transporting stages, no reprocessing, no holes, no checkouts, far less waste) and the timber is not harvested from native forests (unlike redgum, stringybark and "Eco-Select" products) or rainforests (unlike meranti, merbau and kwila). And because the timber itself is naturally durable it doesn't require treatment using toxic chemicals.