The L-House salvages a low performing rural home in the Blue Mountains by introducing modern passive thermal qualities.
Project Name
L-House, Blue Mountains, by Alexander Symes Architects
Photographer Details
Barton Taylor
Image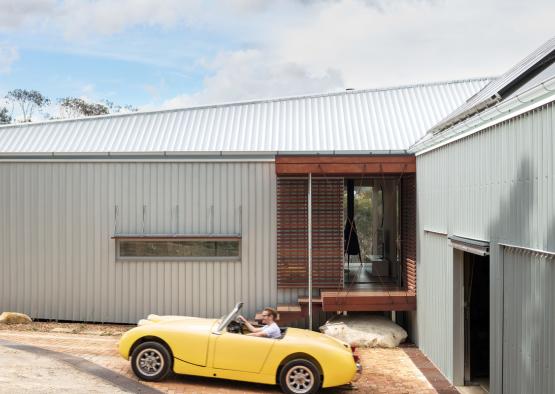 Image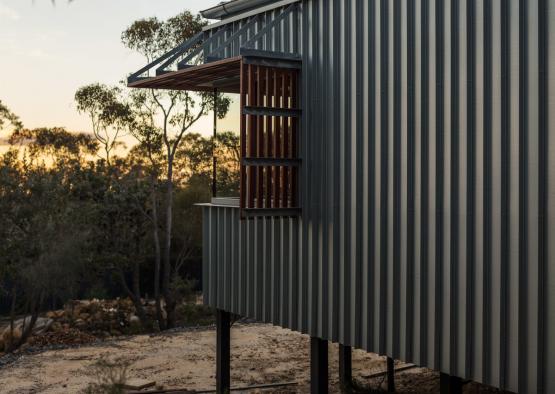 Image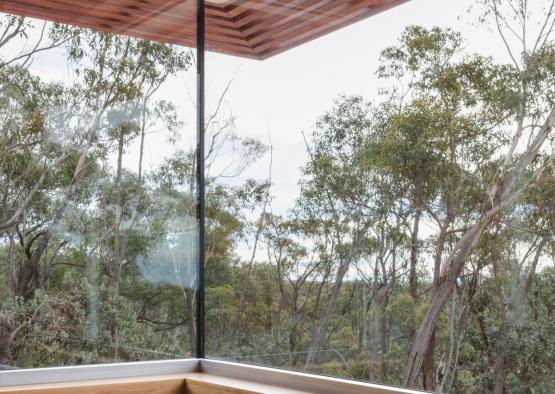 Image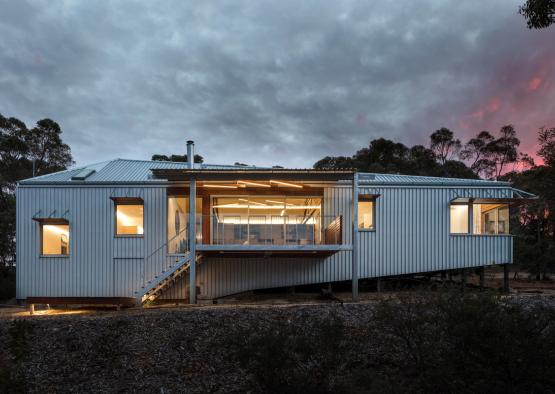 Image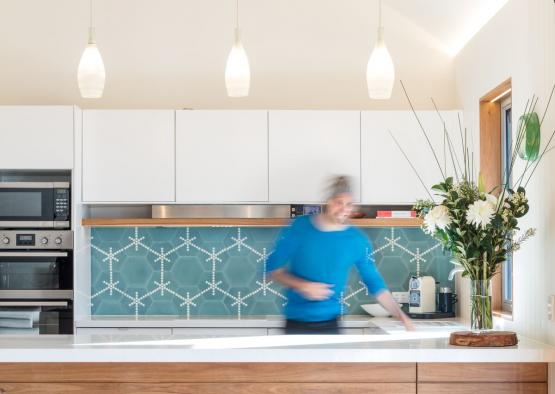 Image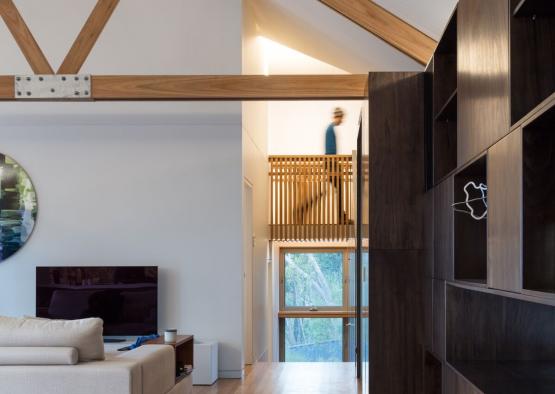 Image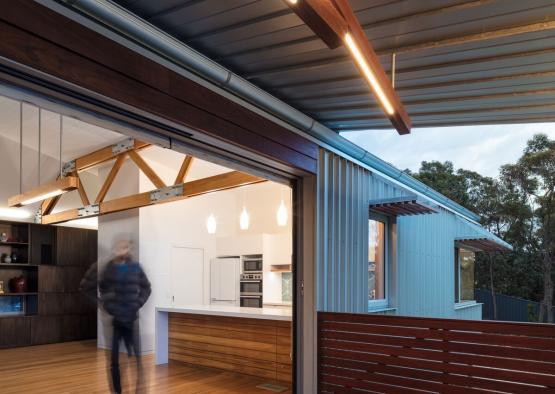 Image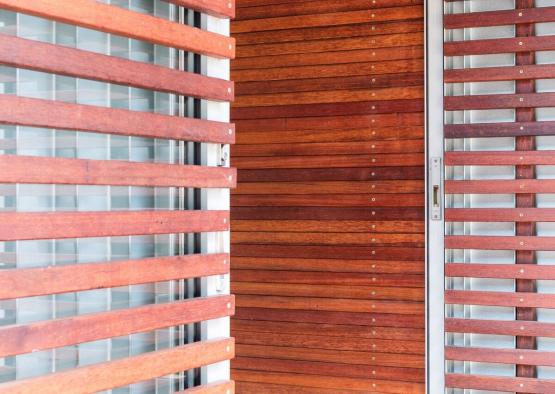 Image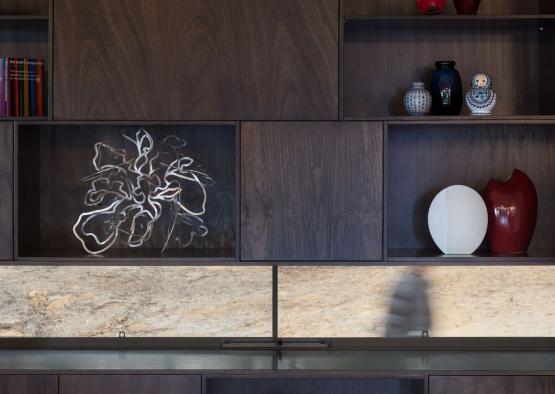 Image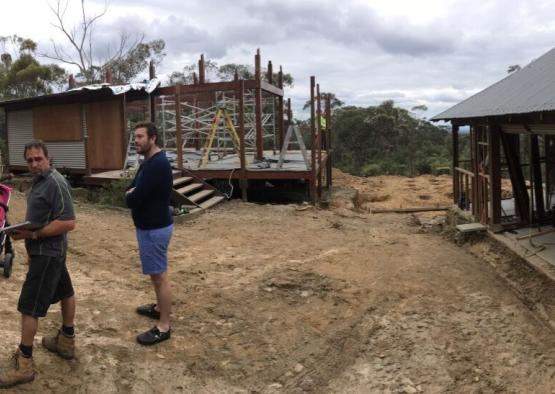 Image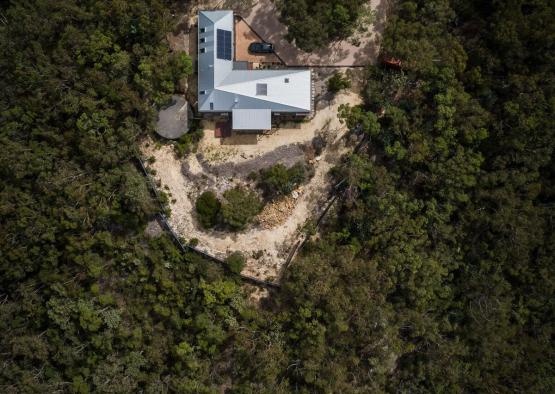 Image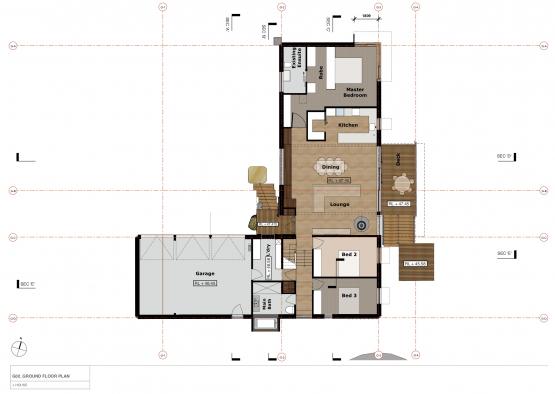 Image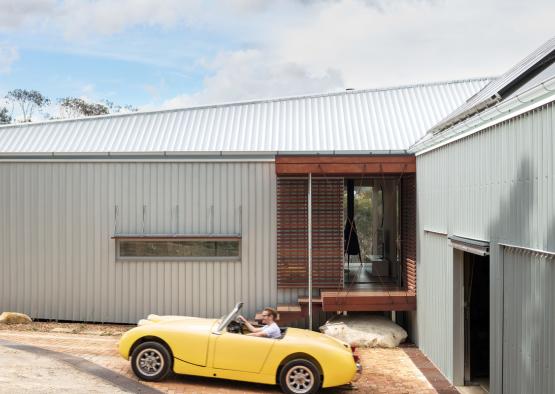 Image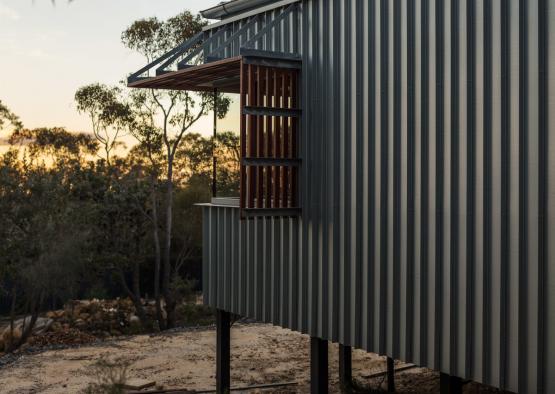 Image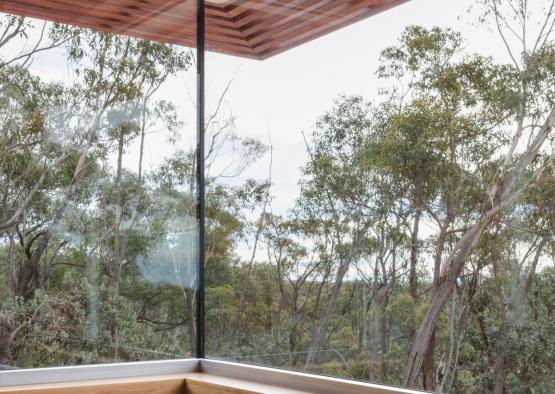 Image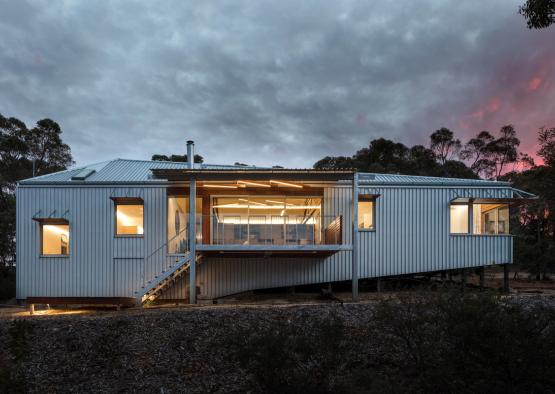 Image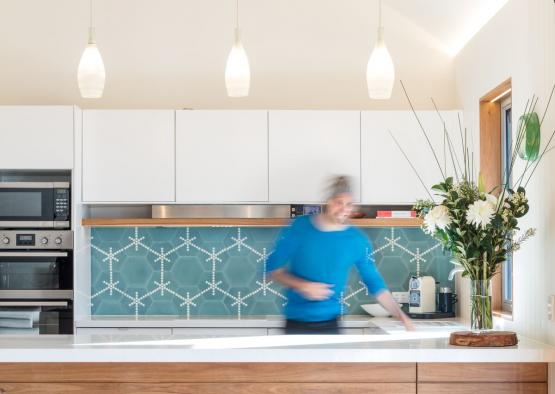 Image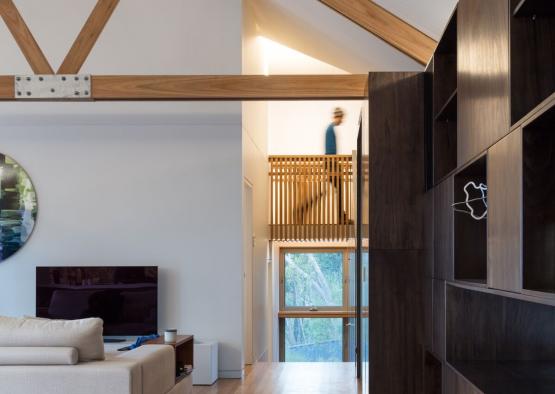 Image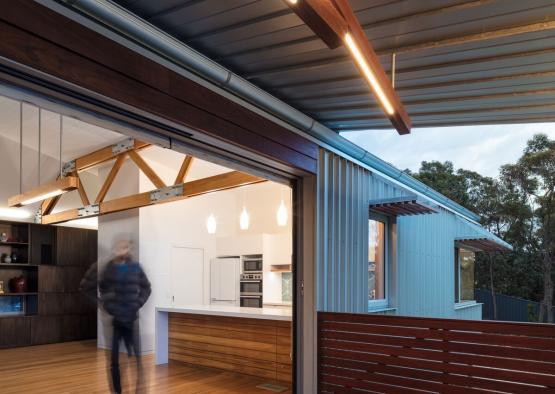 Image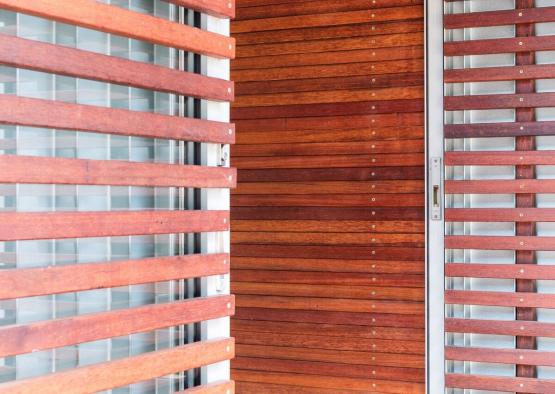 Image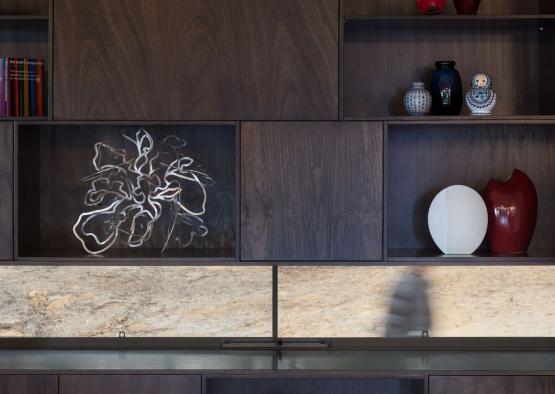 Image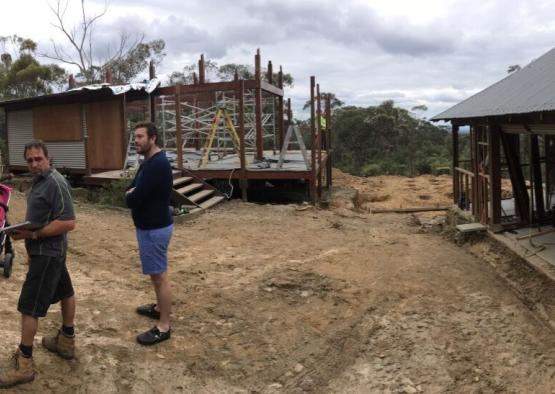 Image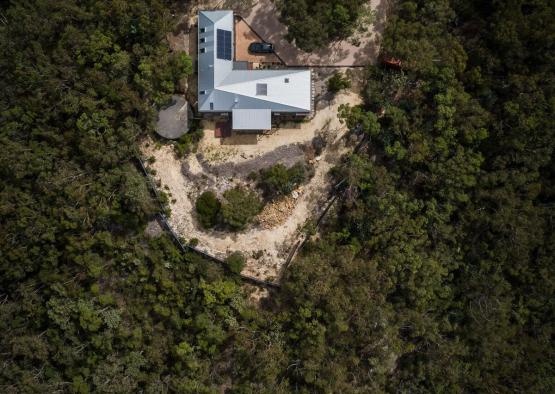 Image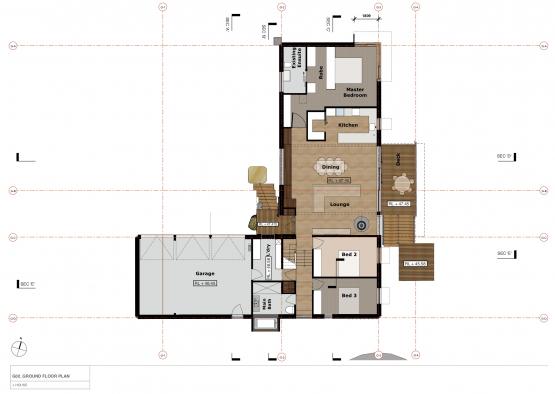 Overview
The L-House is located on a densely vegetated block in the Blue Mountains, with views into the native bushland. Rather than a new build, the existing structures of the original unfinished project house were modernised to create a thermally comfortable and architecturally cohesive family home. 
Structure
A decision was made to salvage as much of the structure as possible from the unfinished existing dwelling. The original frame and concrete slabs were kept intact but stripped back to their structural foundations. The merbau cladding was removed and repurposed where possible in decking and privacy screens. All materials that weren't to be reused for this project were categorised and stored for later reuse. 
High performance cladding and insulation were installed in the old timber structures, and a new link was created between the pavilions. This fulfilled the brief of a family home with distinct sleeping zones and open plan living through the centre. 
A combination of recycled merbau, new engineered LVL timber and particle board makes up the floor structure. The floor system is very much on display under the posts holding up the home. The LVL complements the rustic beauty of the merbau with modern structural integrity.
Exterior
Zincalume cladding was used for the exterior. The galvanised, weatherproof metal sheeting is an alloy of zinc, aluminium and magnesium. The material references shed construction from the area. 
Merbau salvaged from the previous project was repurposed extensively in the exterior of the new link. Timber decking, sun screens, balustrades and stairs were all built out of the old cladding. The pre-weathered timber provided a soft warmth to the exterior, and a natural contrast to the utilitarian metal sheeting, which by itself reads with starkness and hostility. 
Interior
Exposed LVL trusses create a strong roof form and cavernous vaulted ceiling spaces. The exposed industrial timber construction retains a pragmatic feel to the former shack, while increasing the volume of the space. 
Small punctuated apertures wrap the property and create well crafted views of the setting. The small operable windows allow ventilation where needed, and shading from the harsh sun. Coupled with skylights, the interiors are evenly day lit, requiring minimal artificial lighting. 
Timber was used functionally in the interior of L House. The recycled timber was utilised only where timbers properties guided it. Joinery, frames, sills and flooring were all lined with timber. Blackbutt T&G boards were used for the floor surface.