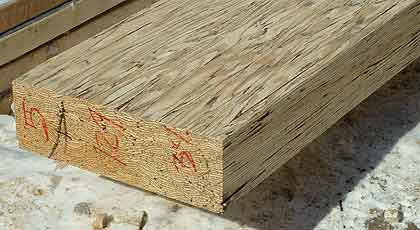 Structural Composite Lumber (SCL)
Structural Composite Lumber (SCL) is a family of engineered wood products used for structural applications.
Structural Composite Lumber (SCL) is the term used to describe a family of engineered wood products used for structural applications. SCL products include Laminated Veneer Lumber (LVL), Laminated Strand Lumber (LSL), Parallel Strand Lumber (PSL) and Oriented Strand Lumber (OSL).
While popular in North America, only some SCL products are used or available in Australia; the main one being LVL.
Manufacturing
SCL products are made by layering either veneers, strands or flakes with adhesives. This process creates a billet which is then cured in a heated press before being cut to size.
One of the main advantages of using SCL is that it offers a material that remains stable and is much less prone to warping, splitting or shrinking when compared to sawn timber.  SCL products can also take greater loads than the sawn timber equivalent.
SCL can be used for a range of structural applications including beams, joists, studs, columns, rafters and I-Joist and I-Beam flanges.
Laminated Veneer Lumber (LVL)
LVL is the most common SCL product and is widely used in the Australian building and construction industry.
LVL is a high-strength engineered wood product. It is comparable in strength to solid timber, concrete and steel and is manufactured by bonding together rotary peeled or sliced thin wood veneers under heat and pressure. It is used for permanent structural applications including beams, lintels, purlins, truss chords and formwork.
Prior to lamination, the veneers are dried and the grains of each veneer are oriented in the same direction. This makes LVL stronger, straighter and more uniform than solid timber and overcomes some of timber's natural limitations such as strength-reducing knots. LVL is less prone to shrinking or warping. LVL can also support heavier loads and span longer distances than normal timber.
Get more detailed information about LVL. 
Laminated Strand Lumber (LSL)
Rather than being manufactured from veneers, as the name suggests LSL is produced from timber strands. LSL may be used for a range of framing applications, but will generally have lower strength and stiffness properties than LVL.
There is currently no Australian product standard or design rules for LSL, however manufacturers will have their own engineering data for the products they manufacture.
Parallel Strand Lumber (PSL)
PSL is manufactured by bonding together veneer strands under high pressure. The veneer strands are aligned parallel to increase strength, resulting in the creation of a rectangular beam.
The manufacturing process is similar to that of plywood, whereby veneer sheets are created and then cut to size.
PSL strands are then coated with an adhesive before the strands are turned into a finished billet that is then cut to custom sizes.  Larger dimensions can be created by edge gluing billets. As with other engineered products, lengths are limited by transportation requirements.
PSL is used for post and beam construction as well as beams and lintels. Some PSL proprietary products may be available in Australia, however it best to check with individual suppliers.
Oriented Strand Lumber (OSL)
OSL is produced in a similar way to OSB, except that the panels are cut into lumber dimensions.
OSL is also similar to LSL, except that it uses shorter veneer strands, although it still provides a high length-to-thickness ratio. OSL will generally have lower strength and stiffness properties than LVL or PSL.
OSL may be used in beams and other framing applications. OSL and LSL tend to have a mottled appearance without the grain pattern for a 'timber look'. This limits the appearance applications in which these products can be used.
OSL is currently only produced in North America.
A truss is a structure comprising one or more triangular units. Each triangle is constructed with straight and usually slender members of timber, connected at the ends by joints. External loads, and the structure's reaction to those loads, act at the joints, resulting in forces that are either tensile or compressive.
The strength of a truss lies in its triangulation of banding members that work together to the advantage of the overall structure. For trusses, compression members often dictate the size of the elements, thus designs that have short compression members or restraint against lateral buckling are generally more efficient than trusses with longer compression members.
Within a building two forms of trusses can be found. Nail plated trusses are trusses hidden from view that use nail plates as connectors. Architectural trusses refer to those attractively detailed timber trusses, exposed to view. This guide focuses primarily on the application process of the latter.
The benefits of timber trusses are notable and numerous. Timber roof trusses are an ecologically sound choice, compared to conventionally pitched roofs, they use smaller dimension timbers that span greater distances and this in turn reduces the total timber volume contained within. Architectural timber trusses are lightweight, enabling speedy and efficient construction and installation that results that in a visual feature to be enjoyed for decades.
This article provides a comprehensive overview to the processes involved in specifying, assembling and installing an architectural roof truss.
Lightweight timber construction typically comprises framed and braced structures to which one or more types of cladding are applied. Framing configurations can range from the closely spaced light timbers commonly seen in stud frame construction to large, more widely spaced timbers. A timber framed building can be placed on a concrete slab or on posts/poles or bearers resting on piers/stumps supported on pad footings.
Used in houses or multi-residential dwellings, lightweight timber construction offers the flexibility of a wide range of cost effective design options.
When the timber comes from sustainable sources, this construction method can be environmentally advantageous as it combines timber's low embodied energy with its capacity to store carbon.
Timber portal frames are one of the most favoured structural applications for commercial and industrial buildings whose functions necessitate long spans and open interiors. As a material choice, timber offers designers simplicity, speed and economy in fabrication and erection.
Timber portal frames offer a strong, sound and superior structure. Structural action is achieved through rigid connections between column and rafter at the knees, and between the individual rafter members at the ridge. These rigid joints are generally constructed using nailed plywood gussets and on occasion, with steel gussets.
From material selection to finishing, this application guide provides a comprehensive overview of the process of using timber in the specification, fabrication and erection of portal frame structures.