Rails and Balustrades, Interior
With its natural beauty and inherent strength, timber is a popular material choice for internal balustrades. Commonly built from treated softwoods and durable hardwoods, interior balustrades and handrails are typically finished with a clear lacquer to generate the most natural result.
The versatility, beauty and strength of timber makes it the ideal material choice for interior handrails and balustrades. Treated softwood and durable hardwoods are the most popular timber choices and these can be turned to create a range of unique styles and designs to suit a variety of tastes and decors.
When used internally balustrades and handrails are typically finished with a clear lacquer to showcase the natural beauty of the timber and with appropriate care and attention will last a lifetime. Find here general information on member sizes, connections and suitable materials, as well as important considerations, for the specification and construction of interior handrails and balustrades.
AS1170.1 requires balustrades and railings, and their members and connections, to be able to resist the following factored limit state loads - 0.9kN inward, outward and downward load at any point.
It also requires balustrades and handrails to be able to resist a factored horizontal or vertical load of 0.53kN/m for all areas within or servicing exclusively one dwelling including stairs and landings but excluding external balconies. Infill, including balusters, should be capable of resisting 0.75kN in any direction.
Internal handrails and balustrades are typically constructed from treated softwood and durable hardwoods.
For internal use, timber of any durability class is suitable.
The timber should be free from any major strength reducing features, be straight grained and in accordance with the following:

Hardwood: (including meranti) - AS2796 Timber - Hardwood - Sawn and milled products - clear or select grade
Softwood: (including imported softwood): AS1786 - Joinery timber milled from Australian grown conifers - clear grade

In addition, finger jointed timber shall comply with AS5068 Timber Finger joints in structural products and laminated timber shall comply with AS1328 Glued laminated structural timber.
Handrails and balustrades for all buildings are required to comply with the Building Code of Australia. The BCA is primarily concerned with the safety of building users and stipulates that a continuous balustrade or handrail must be provided along the side of any stairway or ramp, any floor, corridor, hallway, or the like if it is not bounded by a wall and more than one metre above the surface beneath. As per the illustration below.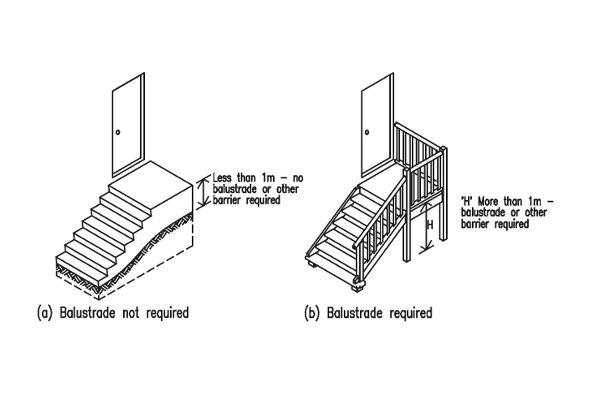 The height of a balustrade or other barrier must be not less than one metre above the floor of any access path, balcony, landing or the like and not be less than 865 mm above the nosings of the stair treads or the floor of a ramp.
Openings in balustrades (including decorative balustrades) must be constructed so that any opening does not permit a 125 mm sphere to pass through it. Floors more than four metres above the surface beneath, any horizontal elements within the balustrade or other barrier between 150mm and 760mm above the floor must not facilitate climbing. As shown in the illustration below.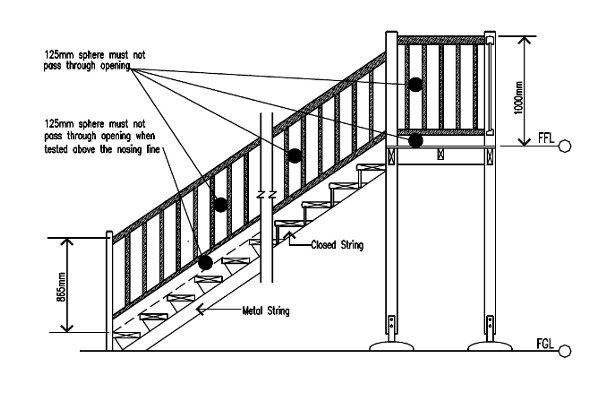 The following outlines the key structural properties that should be considered in the design and construction of handrails and balustrades.
Handrail sizes and spans should be in accordance with the following table.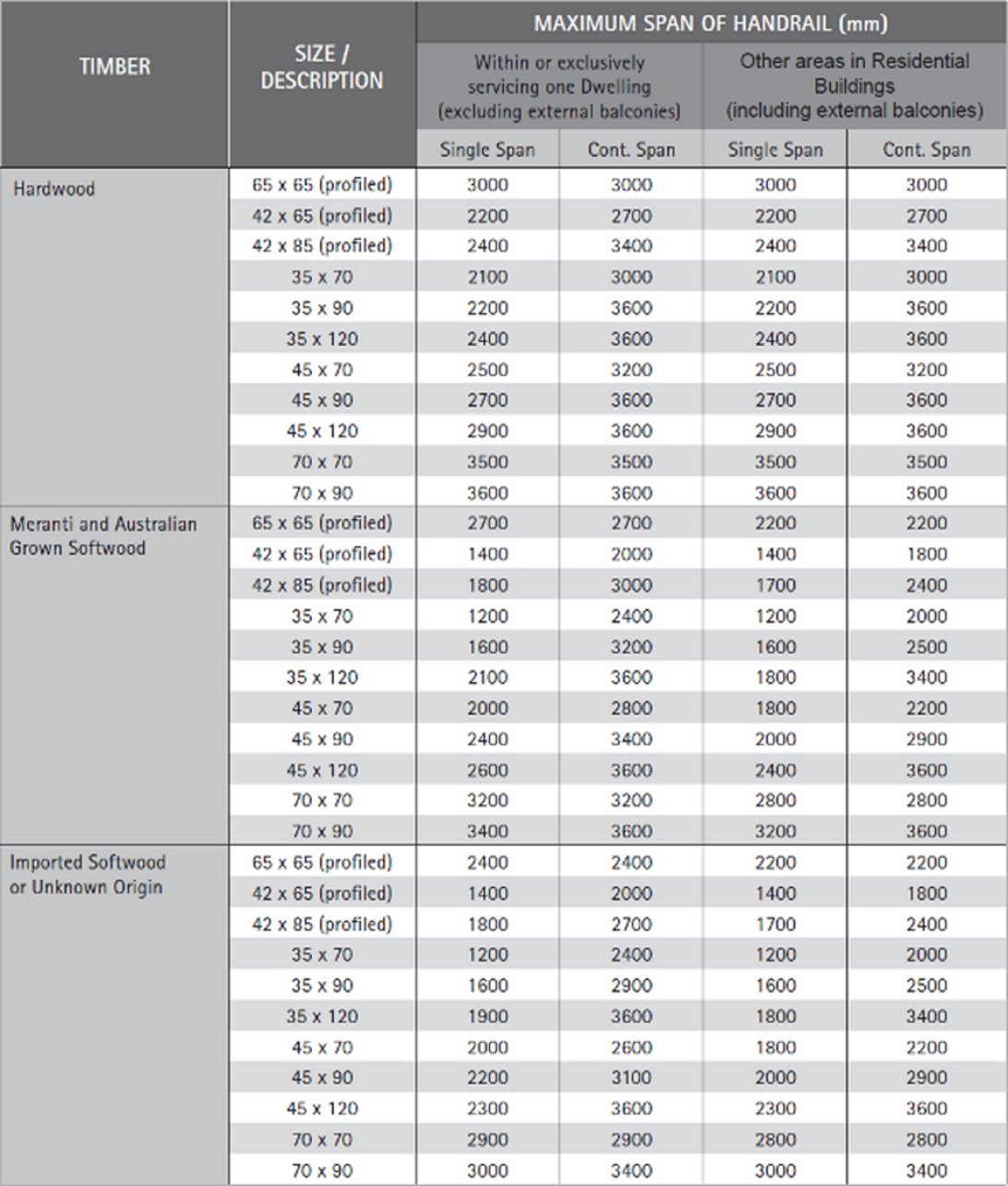 Posts and newel posts should have a minimum stress grade of F5. Where they only support handrails and balustrades, the minimum size of posts and newel posts should be 80 x 80 mm (maximum post spacing 3600 mm and height of 2700 mm). Where supporting roof and or floor loads, refer to AS1684 to determine size.
The minimum size of infill/balusters should be:
Hardwood - 19 x 19 mm or 21 mm diameter
Softwood - 19 x 42 mm, 32 x 32 mm or 25 mm diameter
Connections are essential in the transference of loads from handrails to posts.
Posts and newel posts should be connected to floor framing/stringers as demonstrated by the following figures.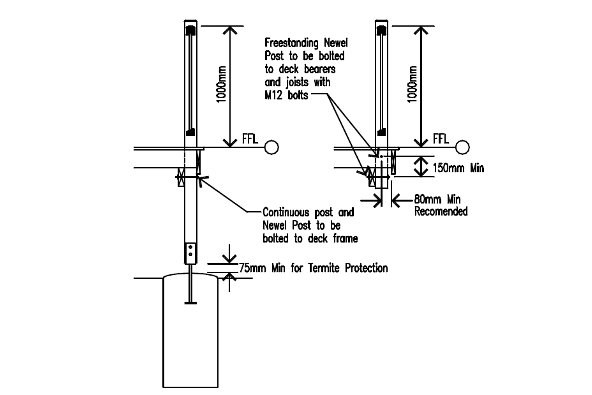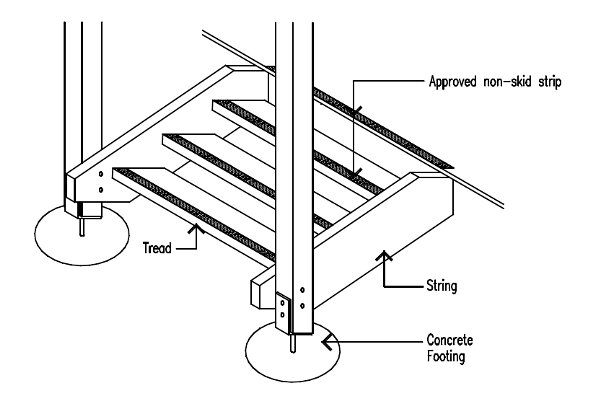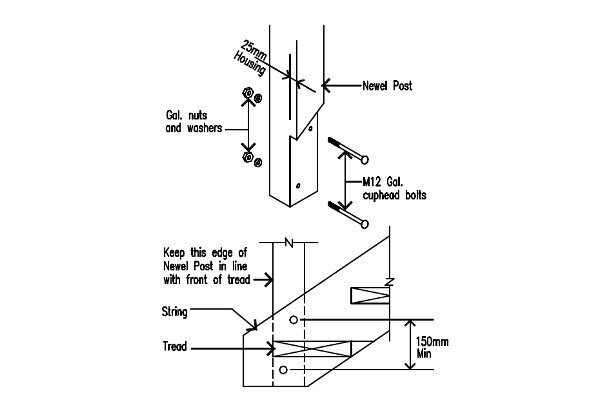 The following tables explain acceptable loads on handrails and the capacity of handrail connections.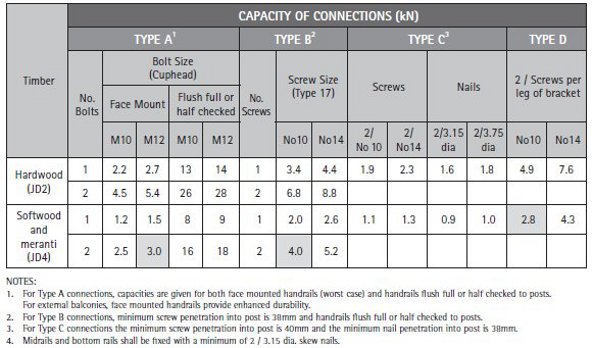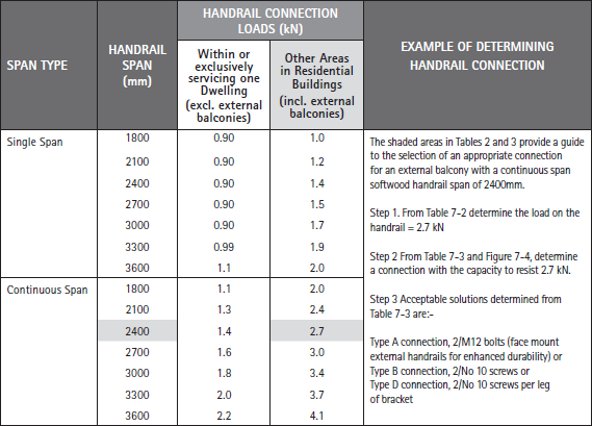 Finishing internal balustrades
The finish for internal balustrades is often a clear polish or lacquer which means both material and workmanship needs to be of the very highest standard. Many of these finishing products are sold in colours pre-matched to specific species. Generally all fillers are slightly darker and this allows the boards to deepen in colour following finishing and UV exposure.
The following table shows typical finish options for internal stairs and balustrades.